The Government of Canada is working with Canadian First Nations communities to end long-term drinking water advisories which have been in effect for more than 12 months since November 2015. This includes projects to build or renew drinking water infrastructure in these communities.
The First Nation drinking water advisories were a big part of the 2021 Canadian federal election campaigns. The current government had made big promises to fix all of the advisories in 2015. The opposition criticized them for not having achieved that goal to-date. However there was poor communication about the actual number and status of the advisory projects. So I wanted to find some data to learn the actual status for myself.
TLDR the results can be seen on a Github.io hosted page.  A screenshot is provided below. The code to retrieve and transform the data to create that web page are in my Github https://github.com/sitrucp/first_nations_water repository.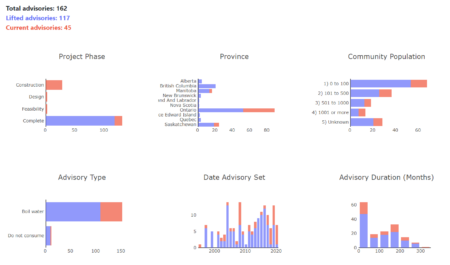 Finding the data I needed only took a  few minutes of Google search from an Indigenous Services Canada  website that mapped the water advisories by counts of advisories by FN community, project status, advisory dates, and project type.
While the web page also included a link to download the map data, after a bit of web page scraping and inspection, I learned that the downloadable map data was created by web page Javascript from another larger data source referenced in the map page code https://www.sac-isc.gc.ca//DAM/DAM-ISC-SAC/DAM-WTR/STAGING/texte-text/lTDWA_map_data_1572010201618_eng.txt.
This larger data source is a text file containing JSON format records of all Canadian First Nations communities and is many thousands of records. As a side note this larger file appears to be an official Canadian government dataset used in other government websites. The map data is limited to only about 160 First Nations communities with drinking water issues.
So rather than download the 160 record map page data, I retrieved the larger JSON format text file and used similar logic as that for the map web page code to get the 160 records. This was done in two steps.
Step 1: retrieve JSON format text file using a Python script water_map_data.py to retrieve and save the data file locally. I may yet automate this using a scheduled task so the map gets regularly updated data as advisory status changes over time.
Step 2: process the saved data file and present it in an HTML web page as Plotly.js charts and an HTML tabular format using Javascript in this file  first_nations_water.js
Finally, I also separately created a Excel file with Pivot Table and Chart that you can download and use to do your own analysis. Download this Excel file from the Github repository. The file contains an Excel Power Query link to the larger text JSON file described above. You can simply refresh the query to get the latest data from the Indigenous Services Canada  website.