Here is a demo web application / SaaS called SpeedVisit that individuals and companies can use to easily and quickly record visits from people to record basic customer demographic information.
Features include:
Groups – create a group so you add other users, locations and referrers to it.
Users – add additional users to your group as you want.
Locations – add locations where visits will take place.
Referrers – add referrers to record how visitor was referred.
The definition of 'visit' is pretty broad. It could be customers, co-workers, classmates, attendees in many situations including:
Retail Stores
Staff Meetings
Convenience Stores
Restaurants
Street Vendors
Art Studios
Non-Profits
Community Clubs
Sports Events
Social Events
Trade Shows
The demographic information that you can record currently includes:
Gender
Age
Zipcode or postal code
Income
Prev Visit
Referrer
Location
Purchase
Email
Comments
The site is mobile friendly responsive design so it works on phones, tablets, laptops and desktops.
The data is totally portable with easy export of all visits to csv file. It is setup with SSL so your data will be securely transferred between your browser and the server.
This is a screenshot of the top of the visit capture page which is the central feature of the application and workflow.  Simply use radio buttons and choosers to select categorize the visitor and add record. The page will then be ready for the next visitor.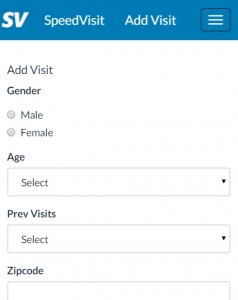 The data is available for anyone else to view it, to view aggregated statistics, etc. This is screenshot of the recorded visit data.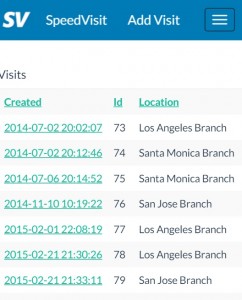 You can sign into the demo account to see what sample account and visits look like too.