Sir Patrick Stewart @SirPatStew was doing Shakespeare Sonnet readings from his home during the COVID-19 lockdown and they were really good.
I retrieved Sir Patrick's Twitter data and created a visualization of his #ASonnetADay hashtag tweets like and retweet counts to show their popularity (screenshot below).
The visualization is accompanied by a table listing each tweet in chronological order  with like and retweet counts and a link to the tweet.
The data is still being collected even though he has long stopped posting these #ASonnetADay tweets but the like and retweet counts continue to grow.
View visualization: https://sitrucp.github.io/sir_pat_sonnet_a_day_tweets/
Code hosted on Github: https://github.com/sitrucp/sir_pat_sonnet_a_day_tweets
Data was retrieved from Twitter using the Twitter API and Tweepy and the visualization was created using Plotly.js dot plot and is hosted on Github.io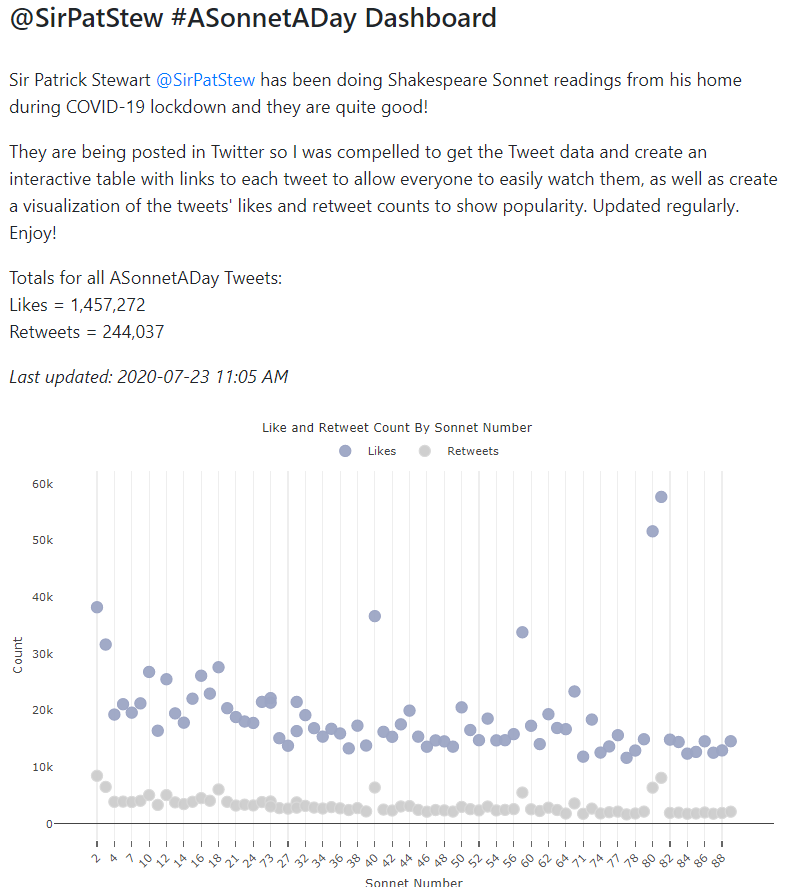 The Tweet data was used to create the following:
A categorical dot plot of each sonnet's tweet like and retweet counts.
A tabular list of #ASonnetADay tweets with links to tweet to allow others to easily find and watch them.